Symbol unknown error when connected to Sierra Chart with CQG
Hi Alex,
Thanks for your question.
In the future, to help us troubleshoot your issues further, would you mind providing a screenshot or a bit more information about the nature of your issue so we have an easier time addressing it?
There are a few potential reasons that this might occur. Please let us know which symbols you are using, the data feed you are connected to, and a screenshot of the error message you receive when this occurs.
Thanks,
Jake
Optimus Futures Support

Hi
The Sierra chart ES and NQ and CL data are missing half a day of data on 17/7.
I am using CQG login
Please advise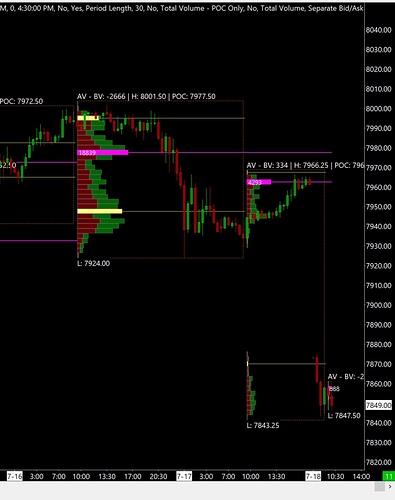 Hi @alexchui,
Thank you for reaching out to us about this issue.
There could be a number of potential reasons this could have occurred, however, it is a bit hard to determine based off the screenshot you have provided. I would suggest to refresh your chart's data.
You can refresh your data on your chart by navigating to Edit > Delete All Data and Download (a chart must be open for this option to become available).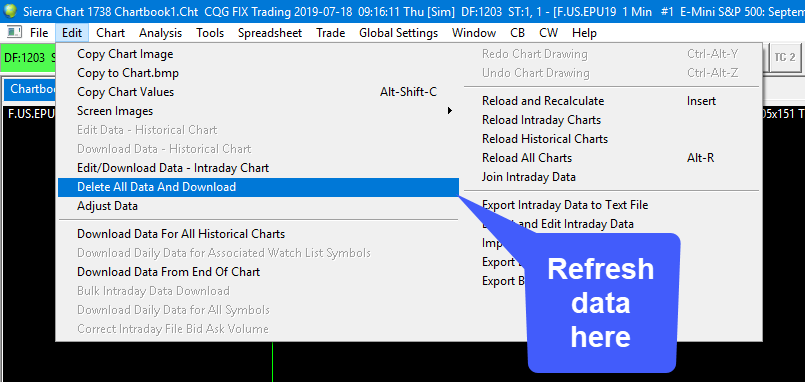 Please let me know if this solves the issue you were experiencing. If not, we will get in touch with CQG and Sierra Chart support to troubleshoot this issue further.
Thanks,
Jake
Optimus Futures Support

Hi
Yes I already did that , it is still the same for all chart half day missing
Thanks
Hi @alexchui,
Have you attempted to open a new chart with these same symbols, but using a different style chart?
We are using the CQG data feed with Sierra Chart as well and it does not seem that we experienced this same issue as you can see in the image below of the EPU19 running off of a daily interval.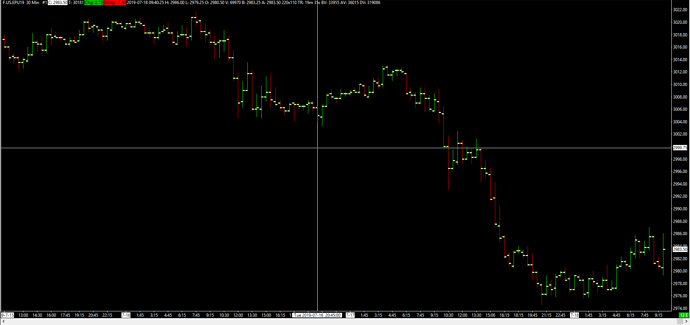 I would also suggest attempting to refresh your data with all of the available options found within the edit menu. Such as: Reload All Charts, Reload and Recalculate, Reload Intraday Charts, and Reload Historical Charts, Download Data for All Historical Charts, and Download Data From End of Chart.
We will also reach out to CQG and Sierra Chart support on your behalf, but it is worth exhausting all possibilities to see if we can determine a solution on our own.
Thanks,
Jake
Yes I have tried to load new chart still the same
Hi @alexchui,
We've already reached out to CQG , AMP, and Sierra Chart support regarding this issue.
From what has been reported to us so far, no other users have experienced this same issue. This could be an issue specific to your local machine. Can you please provide us with another screenshot with the full view of your chart? The one you provide cuts off crucial information we can use to troubleshoot this issue.
Also, please make sure your Sierra Chart is currently up to date and running the current version. You can update by going to Help > Download Current Version. Once you have done this, AMP also suggested to try and download the "Pre Release Version". This can also be found under Help > Download PreRelease. Finally, please attempt to load these charts as both Historical and Intraday if you haven't done so already.
We will report back once we receive further confirmation.
-Jake
Sierra Chart has advised to please follow these instructions step by step: https://www.sierrachart.com/index.php?page=doc/HistoricalIntradayData.html#RetryDownloadDataInChart
If you are still experiencing issues after following these instructions, then you may need to get in touch with their support team directly for further assistance. CQG has not reported back to us yet, but AMP has made it clear that no other customers have complained about CQG outages.
Feel free to give us a call if issues persist at: (800) 771-6748
Please let us know how it goes!
Jake
Optimus Futures Support