Hello, Is it possible to create custom exit strategies through the browser in any of the editions of TV?
Thanks
Hello @olufemig,
Thanks for your question! What type of custom exit strategy are you looking for?
TradingView does support bracket orders and bracket order management which can be access through the Order Panel.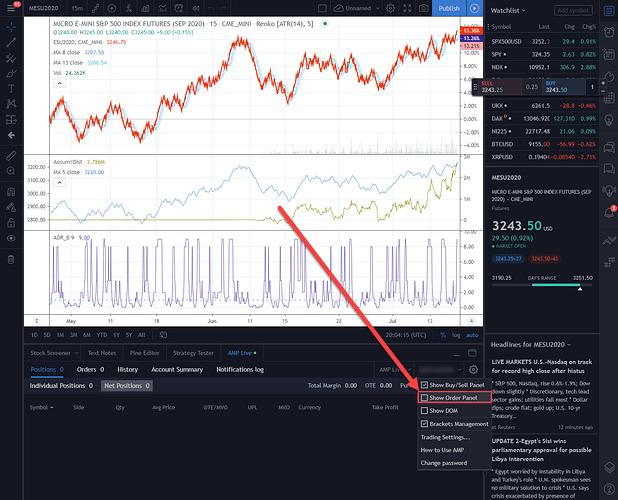 Once enabled, you can create and modify bracket orders in the following section: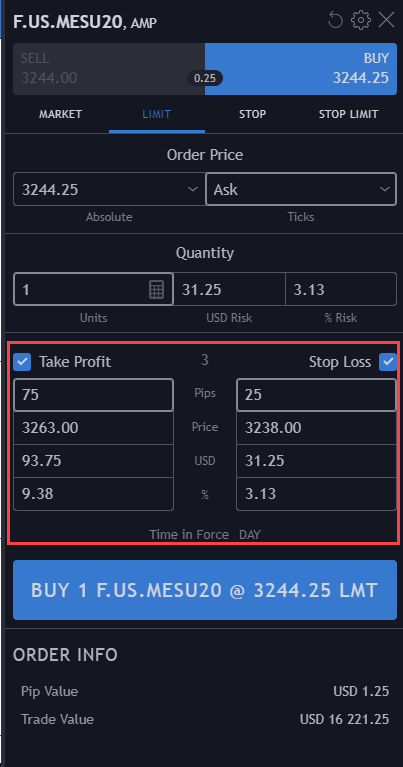 Thanks,
Jake
Optimus Futures Support

Disclaimer: Trading futures and options involves substantial risk of loss and is not suitable for all investors. Past performance is not necessarily indicative of future results. You should therefore carefully consider whether such trading is suitable for you in light of your financial condition. The placement of contingent orders by you or broker, or trading advisor, such as a "stop-loss" or "stop-limit" order, will not necessarily limit your losses to the intended amounts, since market conditions may make it impossible to execute such orders. The high degree of leverage that is often obtainable in commodity interest trading can work against you as well as for you. The use of leverage can lead to large losses as well as gains.
HI Jake. Would i have to update that last dialog box each time i want to enter the market? Or is it 1 click trading on the chart, similar to SIerra Charts? Thanks
Hi @olufemig,
When it comes to bracket orders on TradingView, you would need to manually configure your bracket set up and update the dialog box each time you enter your order.
The actual bracket setup (take profit and stop loss levels) themselves may stay in place, but you will need to change the order entry price for each new order.
I hope this helps!
Jake
Optimus Futures Support