Hello Everyone,
I'm a new here and I've just decided to go with CQG as datafeed and for order routing.
I have a strategy developed with Multicharts using DTN IQFEED data (they offer a very big database of datas and of course you pay a lot for it) and today I simply tried to apply the same strategy over the same instrument (the DAX FUTURE) but just with CQG data. I 've been very surprised to see so much difference into the backtest results. On IQ feeed I'm using the XG# continuous contract and on CQG I'm using the DDM19 contract (because they don't offer the continuos contract or I'm unable to find it).So Here there are the last 2 month of daily operations simulated with multicharts (on the left you have IQFEED and on the right you have CQG). How's possible to have such a difference?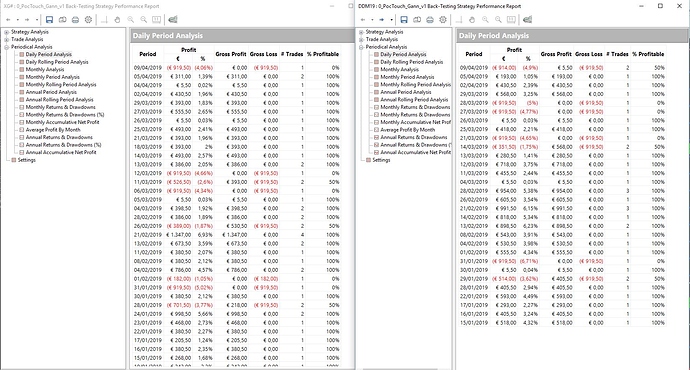 My strategy analize how the price arrive to a level by checking some previous bar shapes over 5 minutes bar and 2 minutes bar.
I checked the chart with the TIME BASED candles with 5 min and 2 min and IQFEED and CQG are almost IDENTICAL. Only if I try a resolution of for example150 contract then charts are VERY different.
Anyway my strategy is using only time based bars so I'm unable to understand such a difference.
Of course I can set up multichart to use IQFEED as data feed and send Order throw CQG, but by this way I'll spend 140$/m for IQdatafeed when I'm already paying CQG for the same ( and I cannot use IQFEED data with my other computer for studies and backtest).
Any ideas? Is anyone experienced something like this?