MarketDelta Trader's Automated Order Management a is new robust way of implementing trade strategies into the Market.
What is Automated Order Management (ATOM)?
ATOM strategies have advanced logic that automatically recognizes your position and will not submit strategies in the opposite direction of your position. Instead, it will decrement your working quantity of orders to stay in accordance with your position. For instance, if long 5 with a bracket order working (profit and stop loss orders) and you sell 1 at the market, ATOM will
automatically reduce your working order quantities of both the profit target and stop loss to a
quantity of 4 so that you remain protected and not over exposed and it will not submit new
brackets in the opposite direction.
How many leg's does MarketDelta Trader support?
Up to 5 Legs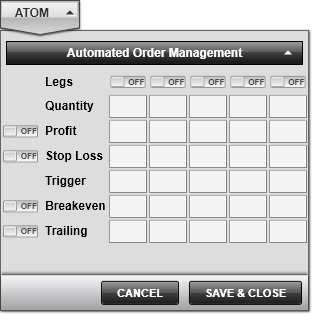 What kind of strategies does MarketDelta Trader support?
Single-Leg
-Single Exit Profit Strategy
-Single Exit Stop Loss Strategy
-Single Bracket Strategy
-Single Breakeven Strategy
-Single Trailing Strategy
Multi-Leg
-Multi Exit Profit Strategy *
-Multi Exit Stop Loss Strategy
-Multi Bracket Strategy
-Multi Breakeven Strategy
-Multi Trailing Strategy