Hello Traders!
With the exciting launch of the Micro Crude Oil Contract, we thought we would give you a detailed summary of the contract and allow you to ask any trading-related questions about the Micro Crude Oil Contract. Let's Start.
WTI crude oil, the benchmark for pricing oil worldwide, is a highly liquid and popular commodity. Introducing Micro WTI crude oil futures, which are contracts that are one-tenth the size of standard WTI crude oil futures.
Currently, there are three contracts traded on the CME: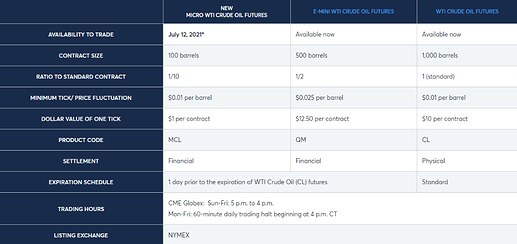 Let's review the contracts specs that separate it from the regular Crude Oil COntract and the Mini Contract Crude Oil:
It is financially settled. No physical delivery

The size of the contract is only 100 Barrels.
Why Trade Micro WTI Crude Oil Futures?
• Customer demand for smaller, more accessible futures contracts has exploded in the past 2
years.
• On July 12, 2021, Micro WTI Crude Oil futures will give traders of all sizes a smaller, more precise instrument for managing crude oil price exposure.
• At 1/10 the size of the benchmark WTI futures contract, Micro WTI Crude Oil futures offers the same robust transparency and price discovery of larger WTI futures with smaller margin requirements and lesser notional exposure.
Micros allows scaling in/out of positions instead of just trading one large contract in and out.
What are the trading hours on CME Globex?
Sunday – Friday 6:00 p.m. – 5:00 p.m. ET with a trading halt from 5:00 p.m. ET – 6:00 p.m. ET. Please refer to this link.
Expiration:
Micro WTI Crude Oil futures settle 1 day prior to the standard WTI Crude Oil contract (CL). CL trading terminates 3 business days prior to the 25th calendar day of the month prior to the contract month. If the 25th calendar day is not a business day, trading terminates 4 business days prior to the 25th calendar day of the month prior to the contract month.
MCL is cash-settled so you will not receive physical crude when the futures expire
An MCL Trader has two options as expiration approaches:
Allow the futures contract to expire
• The future will expire and the position will settle with a cash transaction
• The trader will no longer have a position nor exposure to WTI crude oil
"Roll" the futures position
The contracts for Micro Crude Oil (MCL) will be available on July 12th, 2021.
If you want to be enabled for such contracts, please let us know at support@optimusfutures.com
Contracts will be available across our data feeds and platforms. If you have any specific questions about these contracts, please post them below.
To learn more about Micro Crude Oil and Micro WTI Crude Oil futures, please visit the following page as well: Trade Micro WTI Crude Oil Futures from CME Group | Optimus Futures
Risks: Futures trading is not suitable for all investors, and each involves the risk of loss. Therefore, traders should only use funds that they can afford to lose without affecting their lifestyles and only a portion of those funds should be devoted to any one trade because traders cannot expect to profit on every trade. Futures prices on physical commodities could and have been in the negative, hence they can drop below zero. You can lose much more than your initial deposit and are obligated by law to cover any negative deficit. Past performance is not indicative of future results.