Hello. I have a question about the indicator Open Interest. Is it working correctly? It shows nothing on my screen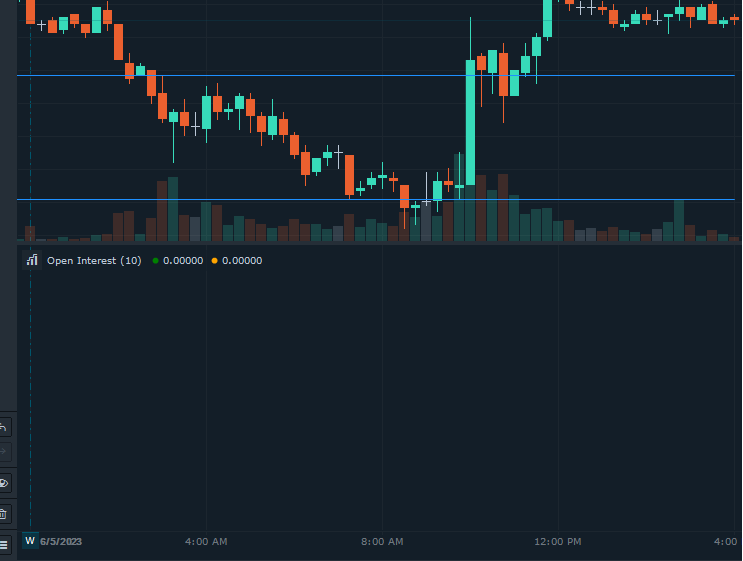 Hi @Ariesfx13,
Thank you for your post and welcome to the Optimus community forum!
After attempting to reproduce this ourselves with the multiple data feeds our platform supports, we have encountered the same experience - the open interest indicator does not appear to be displaying any data.
We have reported this to our developers and will follow up on this post once this indicator has been fixed.
Thank you again for showing us this issue.
Jake
Optimus Futures Support
HI @Ariesfx13,
After investigating this with our developers, we have determined that neither the Rithmic data feed nor the Optimus futures feed is providing historical data for open interest, which is why this indicator is not displaying properly for you.
However, these data feeds DO provide open interest date in real time.
Because the open interest data is available in realtime, you can access this data through our WLi - Watchlist feature.

This column does not show by default, to add it, you can right click your watchlist columns > left click the Open Interest function as shown below: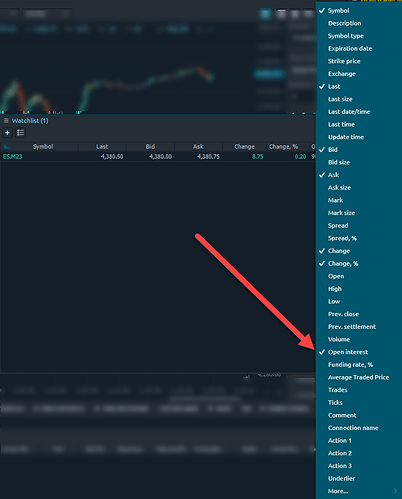 We have internally discussed deleting the open interest indicator from our list of indicators due to the fact that two of the primary data feeds we offer do not support historical data for open interest, which this indicator heavily relies on. Nothing has been deleted yet, but for now, I would suggest to open this function in your watchlist where it is working as intended.
Thanks for your understanding.
Jake
Optimus Futures Support
Hello Jake,
Thank you for the update. I understand the situation. It was my intention to use this indicator along with another to find divergences. But perhaps it's best to delete it as you said. Thanks!