I have recently started trading futures on a R|Trader platform and I want to understand the nature of all the orders. In the past I have used long only strategies, and due to the long term trades, I hit MKT. Now, I have switched to shorter strategies and need to understand the nature of order. Here is my DOM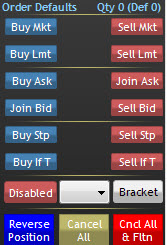 Can you explain what is the difference between: 1) Buy Ask and Join Ask 2) Join Bid and Sell Bid
If there is additional info you need to share with me, please do. I need to take care of the technical side as much as I can. Thanks!