I have a question about the same theme. Currently I am testing the waters of transitioning into futures to get exposure to the US equity market, and I am currently testing Optimus Flow with a Rithmic data feed on a demo account.
My big concern is that everytime I am not able to connect with Rithmic, I am not able to access any of my data. I use weekends for both post and pre weekly analysis, and as I understand it, the Rithmic connection is closed most weekends and opens on Sunday afternoon (that is EST I guess) That is late evening in Europe making weekend analysis impossible.
My questions:
How is the data stored? I am used to be able to pull historical data without connecting to the data provider. The data is stored locally as with i.e. SC

Is this an issue only with demo accounts, or will this also be the case with a live account?

If the answer is yes on question 2, do you see any reasonable workarounds?
---
As I was writing my post, I was suddenly able to connect to Rithmic, but I see some very confusing results. Here is a screenshot: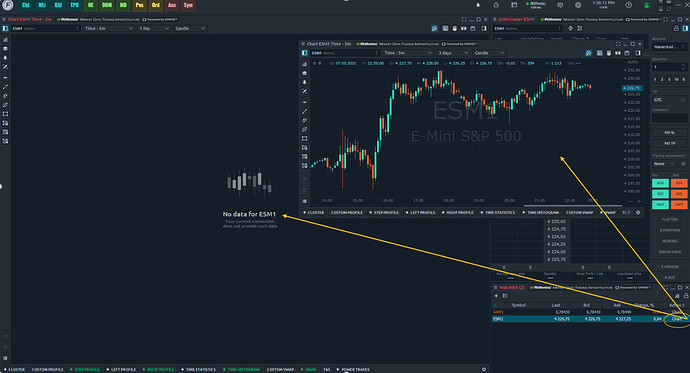 As you can see I am able to pull data if I click the chart button from the watchlist, but the data does not populate to my other charts so I am not able to look at my former chart analysis.
Any tips, tricks or recommendations to fix this is heavily appreciated. I really enjoy this piece of software and it ticks a lot of my boxes, but this issue is really a deal breaker for me in my search for a futures platform/broker
I wish you all a happy Sunday!
Kind regards,
Pelle
P.s. I initially wrote this post in another thread before I noticed it was closed.
Ps2: Disregard the last question with the screen shot. It was nothing but an user error as my charts were set to pull only one day of data and there is no data on a Sunday