What's New? | Release Notes | Current Version: 1.52.22
Attention Optimus Futures community members and Optimus Flow users,
This weekend we will be launching our first update since our official launch, Version 1.52.22. This is a minor update focused around a few minor bug fixes and quality of life features.
For those of you that aren't familiar, when we send out an update of Optimus Flow a green "update logo" will appear hovering above the Optimus Flow main menu button as shown below: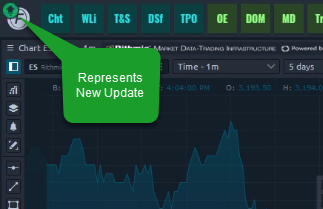 After you open the main menu, navigate to the bottom and click on New Version to prompt the update of the latest version.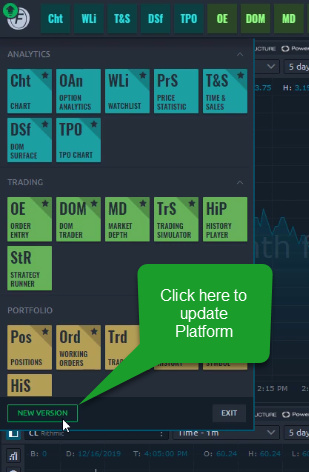 Once updated, your platform will contain the newest features and improvements created by our developers.
---
As mentioned before, this is a minor update, but the new version is still focused around two very important features. The first change you can expect are three new order modification buttons within various order entry panels found throughout the platform. You will find these new changes on your DOM, Markt Depth, Chart - Trading Panel, and the DOM Surface.
The new order modification buttons have had their logic reconfigured and simplified from previous versions. The three buttons you will find are Flatten, Close Position, and Reverse.
Flatten – Cancels all working orders and flatten all positions.
Close Position – Flattens your positions ONLY . All working orders will remain active. If you have placed a bracket order and use this button, the legs of your bracket order will remain while your active positions will close.
Reverse – Reverses your position to the opposite side. If you have a long order and click reverse, you will flatten your current position and then enter a new order on the sell-side.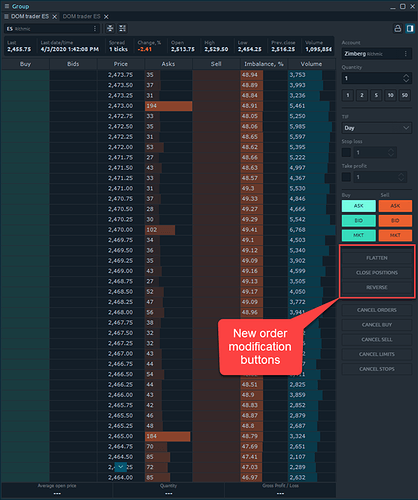 The preexisting buttons such as Cancel Orders, Cancel Buy, Cancel Sell, Cancel Limits, and Cancel Stops will remain the same.
Our next feature is a quality of life update. This feature will look to improve the symbol search function. Previously and by default, only a few preset contracts would load within the symbol search bar. It was possible and still is possible to access any symbol found held on the exchange within Optimus Flow, but symbols were not added until manually searched for.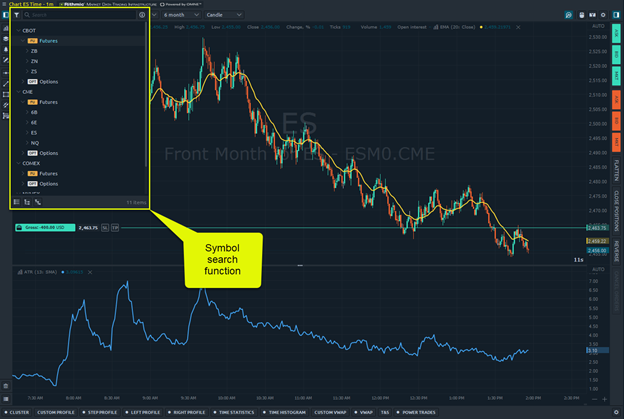 For ease of access and to save time for our users, we have implemented a larger list of default symbols that will appear for all users. If you do not see a symbol you are looking for in these sections, you can still manually search for a symbol. For example, you can search PL and find platinum.
The symbols are:
Stock Indices
ES Emini SP

NQ Emini NASDAQ

YM Dow Jones

RTY Emini Russell

MES Micro ES

MNQ Micro NQ

MYM Micro Dow

M2K Micro Russell
Currencies CME
6A Australian Dollar

6B British Pound

6C Canadian Dollar

6E Euro Currency

6N New Zealand Dollar

6S Swiss Franc
Mini Currency
E7 Micro Euro Currency

J7 Micro Japanese Yen
Micro Currency
M6A Micro Australian Dollar

M6B Micro British Pound

MCD Micro British Pound

M6E Micro Euro Currency

MJY Micro Japanese Yen
Energy
CL Crude Oil

QM EMini Crude Oil

HO Heating Oil

NG Natural Gas

QG Emini Natural Gas

RB RBOB Unleaded Gas
Metals
GC Gold

MGC MIcro Gold

YG Emini Gold

SI Silver

YI Micro Silver

HG Copper

QC Mini Copper
Grains
ZC Corm

O Oats

RR Rice

ZL Bean Oil

ZS Soybean

ZW Wheat
Interest Rates
ED Euro Dollars

ZN 10 Year Note

FV 5 Year Note

ZT 2 Year Note

ZB 30 Year Bonds

UB Ultra T Bonds

ZQ Fed Funds
Our next update, 1.53, will separate spreads from these symbols and place them in their own, dedicated section, like Options currently.
Let us know if you have any questions on Optimus Flow version Version 1.52.22. If you have any feedback on Optimus Flow, feel free to reply below or let us know in a new thread. We will continue to update this thread weekly with new updates and features.
Thanks for your time,
Jake
Optimus Futures